Jennifer Aniston plays the sassy, fashion-loving, Rachel Green in Friends. ...
Steve Granitz/WireImage
Jennifer Aniston Shows and Performances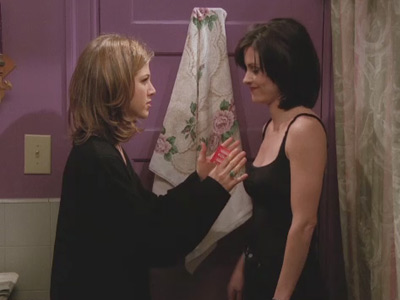 Rachel and Monica find themselves in a condom condundrum.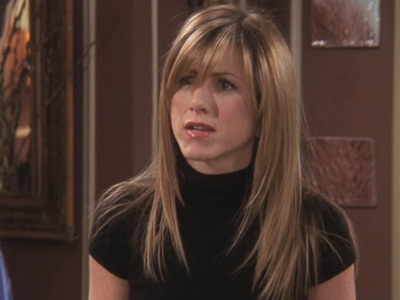 Ross finally confronts Rachel about getting a goodbye but doesn't expect what he's about to hear.
After turning up late, the 'floating heads' plea with Monica to let them in to enjoy Thanksgiving together - ...
Full Biography
Jennifer Aniston plays the sassy, fashion-loving, Rachel Green in Friends.
Her complicated on-off relationship with Ross Geller (David Schwimmer) is almost as famous as her haircut and has earned her an Emmy nomination (2001) for Outstanding Supporting Actress in a Comedy Series and a People's Choice Award for Favourite Female Television Performer (2001).
Jen, who is from Greek descent, was born in California but spent a year of her childhood living in Greece. Her family then relocated to New York where her parents, John Aniston and Nancy Dow, divorced when she was nine. Like Joey (except, erm, in real life) Jen's father landed a role, on the daytime soap Days of Our Lives playing Victor Kiriakis.
At 11, Jen joined the Rudolf Steiner School's drama club. She later began her professional training as a drama student at New York's School of Performing Arts, aka the prestigious "Fame School". Other students of the famous school of Fame include: Robert De Niro, Adrien Brody, Liza Minnelli, Adrien Grenier (Entourage), Kelis and Sarah Michelle Gellar (no relation to Ross).
In 1987, after graduation, she appeared in a few Off-Broadway productions like For Dear Life and Dancing on Checker's Grave. In 1989, she landed her first TV role, as a series regular on Molloy. She also appeared in The Edge, Ferris Bueller and had a recurring part on Herman's Head.
By 1993, things had dried up a bit for Jen. Then, in 1994, a pilot called Friends Like These came along. Originally asked to audition for the role of Monica, Aniston refused, insisting that Rachel Green - the suburban princess turned coffee-peddler - was the perfect role for her. Of course, the rest is Friends history and she went on to make Rachel a household name (and haircut) around the world.
Outside of Friends, Jen's other TV credits include: Hercules, King Of The Hill, 30 Rock, Cougar Town and Dirt.
She's also gone on to star in a host of big-hitting movies such as: Office Space, Rock Star, The Good Girl, Along Came Polly, He's Just Not That Into You, Bruce Almighty, Marley & Me, The Bounty Hunter, The Break Up and Horrible Bosses.
Jennifer's love-life has of course made headlines too, having shacked up with fellow on-screen A-listers such as Brad Pitt, Vince Vaughan, Owen Wilson and Gerard Butler.
But we're not fussed about her real love-life. It's her and Ross's romance rollercoaster that we're concerned with here at Comedy Central!