Without The Daily Show with Jon Stewart most Americans wouldn't care about politics. ...
Comedy Central
Jon Stewart Shows and Performances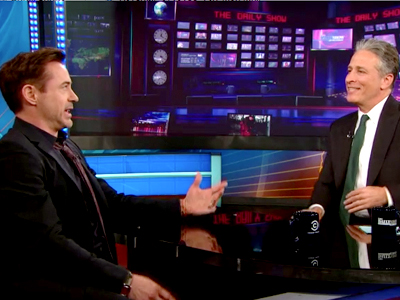 In the third "Iron Man," Robert Downey Jr. finally gets the super villain he wanted.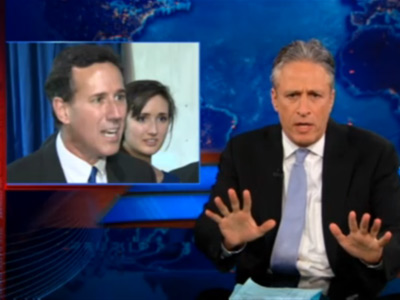 Rick Santorum calls 'bulls**t' on a New York Times reporter, and Mitt Romney gets caught up in Wolf Blitzer's ...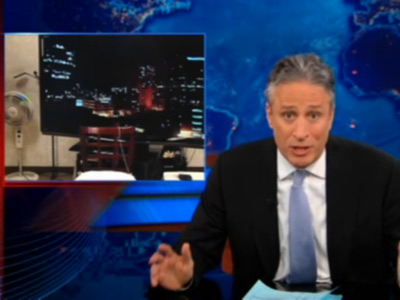 MSNBC's Lawrence O'Donnell expresses his outrage after Craig Sonner, the lawyer in the George Zimmerman case, ...
Photos
Steely looks and nice suits from The Daily Show's news team.
Full Biography
Without The Daily Show with Jon Stewart most Americans wouldn't care about politics.
Satire is Jon Stewart's middle name. Actually it's Stuart…and his real last name is Leibowitz. Yep, full o'facts we are.
Sticking a fun poker into the eye of politics and other news stories, Jon Stewart has helmed The Daily Show since 1999. Before that though he hosted MTV's first talk show The Jon Stewart Show (Google it for some prime 90s nostalgia) before it was axed less than two years later.
In the intervening years between then and The Daily Show, Jon guest hosted on The Late Late Show and did some questionable television acting work.
Yes, some people forget that Jon can actually act too. Although he doesn't think he's very good: 'I can do myself like 10% madder or 10% happier,' he says.
In his defence he hasn't really had the roles to flex his full thespian muscles given movie titles like The Faculty, Big Daddy, Jay and Silent Bob Strike Back and Doogal (The Magic Roundabout).
The Daily Show however is also the vehicle that launched the careers of Steve Carell, John Oliver, Ed Helms and Stephen Colbert. Imagine that, without The Daily Show with Jon Stewart, The Office would be a scarily different place.
You can download The Daily Show with Jon Stewart on

Get this - The Daily Show has won the Primetime Emmy for Outstanding Variety, Music or Comedy Series EIGHT YEARS IN A ROW not to mention a bunch of others for its team of writers. It's even managed to win a Grammy. No, really…and that's in large part down to front man and producer Jon Stewart.
On separate occasions Time and AskMen have both named him the most influential man in the world and yes that included The President of the United States.
Talking of presidents, Jon Stewart has sat down in front of no less than three U.S. Presidents - Barack Obama, Bill Clinton and Jimmy Carter as well as our own kinda-presidenty-type-people Tony Blair and Gordon Brown.
He's interviewed movie stars like James Franco, Colin Firth, Tom Hanks, Cameron Diaz and Jennifer Aniston. Hell he's even had Snoop Dogg and Spinal Tap on there.
In October 2010 alongside Stephen Colbert, he hosted the 'Rally to Restore Sanity and/or Fear' – a rally for the majority of Americans - the 70-80% of people - without extreme political views. It attracted well over 200,000 people. Job done.
Although he likes to dish it out, Jon says he's never run for office himself: 'If I really wanted to change things, I'd run for office. I haven't considered that, and I wouldn't - because this is what I do well. The more I move away from comedy, the less competent I become.'
We'll just have to keep up our hopes that Alec Baldwin does then.