Episode
President Obama slams Mitt Romney over Big Bird comments, Jason Jones explains the polling of polls, and Magic Johnson reveals the secret to his rivalry with Larry Bird.
Mitt Romney presents his vague deficit reduction plan, Jessica Williams interviews black Mormons in Utah, and Ben Affleck rescues hostages in "Argo."
Slightly lower unemployment numbers spark conservative conspiracy theories, Sesame Street comes under fire, and Pete Townshend discusses his memoir, "Who I Am."
Mitt Romney's lies win the first debate, Barack Obama breaks Chris Matthews, Al Gore ponders elevation sickness, and Bill O'Reilly discusses "Killing Kennedy."
An explosive Obama video resurfaces, Stephen Colbert plays the part of Bill O'Reilly, and Rand Paul shares libertarian anecdotes from his book, "Government Bullies."
A Pennsylvania judge rules against the state's voter ID law, John Oliver asks Herman Cain to save America from foreign debt, and Liam Neeson talks kicking ass in "Taken 2."
The Obama and Romney camps aim low at the debates, the White House responds to violence in Libya, and Arnold Schwarzenegger discusses time travel and his book, "Total Recall."
Amar'e Stoudemire | September 27th 2012 | The Daily Show ...
Hungry kids protest school lunch calorie limits, the UN General Assembly makes for bland political theater, and Amar'e Stoudemire discusses his "STAT" children's books.
Olivia Wilde | September 26th 2012 | The Daily Show with ...
The NFL referee lockout continues, Patrick Stewart replaces John Oliver, Jason Jones investigates Sudden Wealth Syndrome, and Olivia Wilde talks life in Kenya.
King Abdullah II of Jordan | September 25th 2012 | The ...
President Obama brushes off United Nations world leaders, Mitt Romney regresses as the election approaches, and King Abdullah II of Jordan talks Arab Spring.
Bill Clinton | September 20th 2012 | The Daily Show with ...
Bill Clinton uses concrete examples to show cooperation between government and private industry.
Salman Rushdie | September 18th 2012 | The Daily Show with ...
Al Madrigal and Jessica Williams assess Mitt Romney's Latino voter comments, and express admiration for his accomplishments despite being an underprivileged rich white male.
Kofi Annan | September 17th 2012 | The Daily Show with Jon ...
Former United Nations Secretary-General Kofi Annan implies the Russians and Chinese aren't the real impediments to effective international action in Syria.
Pink | September 12th 2012 | The Daily Show with Jon Stewart
Fox News addresses the leaked Romney video, the Best F#@king News Team Ever prepares for general election sniping, and Pink performs a song from "The Truth About Love."
Austan Goolsbee | September 6th 2012 | The Daily Show with ...
The Democratic Party votes to amend its platform, Bill Clinton shares hard facts, and economist Austan Goolsbee remains happily divorced from government work.
Kirsten Gillibrand | September 5th 2012 | The Daily Show ...
Democratic National Convention speakers praise President Obama, John Oliver shares a personal Obama anecdote, and Kirsten Gillibrand calls for more women in Congress.
Tom Brokaw | September 4th 2012 | The Daily Show with Jon ...
The Democratic National Convention begins in Charlotte, NC, the Best F#@king News Team Ever updates the Obama campaign's slogan, and Tom Brokaw compares conventions.
August 31st 2012 | The Daily Show with Jon Stewart
Clint Eastwood speaks to an empty chair, Mitt Romney recalls America's idyllic past, and the Best F#@king News Team Ever say goodbye to the Republican National Convention.
Michael Steele | August 30th 2012 | The Daily Show with Jon ...
Paul Ryan addresses the Republican National Convention, John Oliver interprets the Republican theme "We Can Change It," and Michael Steele talks Ron Paul.
Herman Cain | August 29th 2012 | The Daily Show with Jon ...
The 2012 Republican National Convention finds its theme, Samantha Bee investigates the Republican platform, and Herman Cain identifies differences between him and Mitt Romney....
Playlists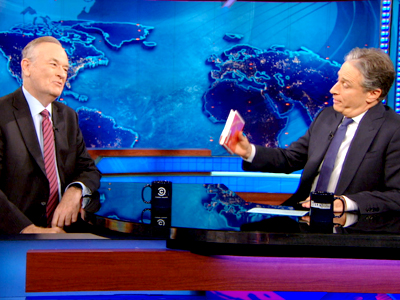 Jul 24, 2012
Watch exclusive extended interviews from The Daily Show and more right here."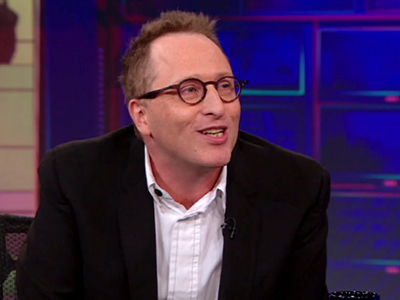 Dec 6, 2011
Watch some of the latest interviews Jon has had the pleasure of holding on The Daily Show."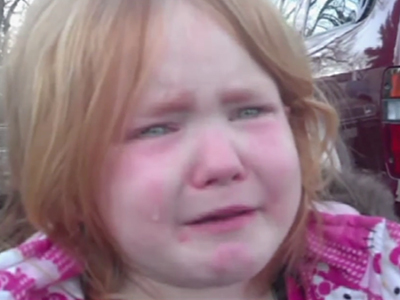 Nov 18, 2011
The funny final moments from Jon Stewart's latest shows."